How ROI of Email Marketing can help your business.
A blog about how the ROI of email marketing can help to market a business and also why businesses should consider it.
Once you wake up in the morning, what do you do? After getting fresh, have a cup of tea or coffee and read the news. Followed by a notification on your mobile. Next, after you open the app and the app shares an alert of the need to clean up your email box. Tired you exit the app and wonder Why do businesses send so many emails? Also, How the ROI of email marketing helps to invest in email marketing campaigns.
Do you still consider email marketing as a lost cause?
orDo you still ponder, why would companies invest in email marketing?
Then, don't worry, you are not alone. Since the early 2010s, there is a fantastic increase in using social media for B2B business. Even on Instagram, users use the audio content of TikTok to create relevant content. And, Instagram themself have many content creation tools.   
But..But…
There's always a catch.
For a few years, there is a topic in the market of social networking sites becoming obsolete in near future. Here, email marketing comes to the rescue. In addition to this, many social media logins are from email id. Before we explore the further, we will have a look at some statistics, won't we?
Are you in search of an email marketing expert that guides you to slay that email lead generation game?
Then We can help you with that. Reach out to us by filling the form here and our representative will contact you.
A look at the ROI of Email Marketing statistics.
Since the 1970s, the launch of the first email revolutionized the market.
In fact, email has become a core activity in the sales and marketing funnel of all businesses. Email marketing revenue stood around $8 billion in the year 2020 and will rise by $2 billion by the year 2023.
The ratio of ROI for email marketing for retail, eCommerce, and consumer goods sector was 4:1 in the year 2020. That means for every dollar there were good profit returns.
There are 4 billion email users around the globe. Additionally, about 306 billion emails are shared daily. Also, in 2019, active email accounts surpassed 5.6 billion.
Marketers agree with making email marketing a priority in their digital marketing strategy. The ratio of email marketing priority to social media marketing is 4:1.
Around, 88% of B2B agree emails are the best free organic distribution channels.
There is a rise in agreement among marketers that email is the most important to achieve success.
Have a query? Hit that contact button, fill in that form, and it's done. Our Email Marketing expert will contact you.
ROI email marketing: How businesses can benefit from email marketing.
As stated above, email is the oldest are a most used tool in the digital space. This tool has been used for decades. GenX agrees about 72%, followed by millennials by 64%, and finally 60% by Genz. Hence, we have gathered top reasons your business can benefit from Email Marketing.
Top Reasons businesses should consider email marketing.
More than half of the total global digital population has an email account. Plus, out of them, 90% are mobile users. With email, businesses can directly pitch their idea to their client or customer.
And, as discussed above, for every dollar, email delivers returns of $36. Considering that the ratio of return on investment in email marketing is 4:1. And with that, we can confidently state that email is constant to change in digital space.
We should also consider the time spent on an email. The average time of 4.5 hrs is spent on email. Users read emails while they're having breakfast or in transit. The average reading time of an email is 8 seconds.
With email, businesses get to know their audience better. The statistics of emails are fairly easy to learn and understand. Audience interest, reading, open rate are categorized on an excel sheet. Over 8 out of 10 people will open a welcome email, generating 4x as many opens and 10x as many clicks as other email types.
The audience will reward with higher open and click rates if you don't send over five newsletters a week. Around 22% of all email campaigns are opened within the first hour of sending.
On average, the highest email click-through rate goes to the Consulting services industry. Followed by administrative and Business Support services. And finally, Home and Building services in third at nearly 19%.
Email marketing helps to boost sales. It is one of the best methods to attract leads. It generates the highest click-through rate compared to different channels. Business authorities are time-bound. Email helps to fill that gap, as it provides a brief idea beforehand. Thus, it helps decision-makers by saving their time.
There are 2 types of CTA a marketer can pitch on email.
Direct Call to Action: A button is provided to create a sense of urgency. Hence, the buyer will take the desired action.
Indirect Call To Action: This technique influences the users to learn about the product. This leads to taking the desired action of their own accord.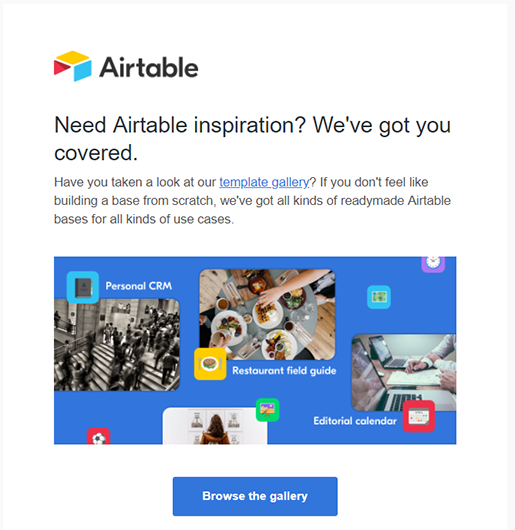 And that's a wrap. Have we missed anything? Share your thoughts in the comments section below and the best comment will be pinned on the top.
For any doubts and queries, contact us here. Our representative will contact you.