Get Your Website Ranked Across Top Search Engines With Expert SEO Services From ECS​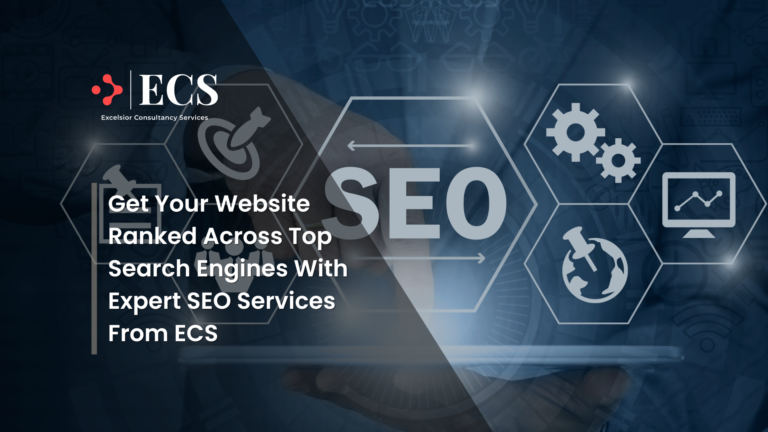 Search engine optimization (SEO) is a process that helps to improve the visibility and ranking of a website on search engines like Google, Bing, Yahoo, etc. Expert SEO Services There are various techniques and strategies involved in SEO, including optimising website content, building high-quality backlinks, improving website speed and usability, and more.
Excelsior Consultancy Service(ECS) is a provider of search engine optimization (SEO) services, which employs a range of practices to enhance a website's accessibility and positioning in organic search. The company's in-house SEO specialists strive to deliver improved search engine results for their clients. Their team of highly-trained SEO experts works to make your vision a reality by getting your website ranked for the most important keywords for your business. The company's goal is to achieve results that align with your business objectives, while also saving you time and effort.
When you choose Excelsior Consultancy Service(ECS) for your SEO needs, you can expect:
In-depth keyword research
Research relevant keywords to your business or service and incorporate them into your website's content. Excelsior Consultancy Services will focus on the keywords that are right for your business, including those that are relevant to your products or services, and the ones that your customers are searching for.
Excelsior Consultancy Services always targets keywords that are right for your business, products, and/or services, and that match your customers' intent.
Stand-out website content
 Ensure your website's content is high quality, original, and relevant to your target audience. Excelsior Consultancy Services has a team of content experts who can create high-quality content that stands out for your business. They can also create blogs to help your brand establish itself in your industry
Build High-Quality Backlinks 
Try to obtain backlinks from reputable websites in your industry to help boost your website's authority.Excelsior Consultancy Services'  SEO experts will submit unique content to blogs, directories, submission websites, and social bookmarking sites to enhance your website's authority and rankings.
Excelsior Consultancy Services' SEO specialists will review your website on a weekly basis and provide you with a prioritised SEO action plan that is tailored to your website. They will also focus on preventive measures to avoid any potential drops in traffic or keywords.
Comprehensive monthly SEO reports
Excelsior Consultancy Service's dedicated monitoring team will produce comprehensive SEO performance reports that showcase your website's visibility, performance, rankings, traffic, the number of visitors, and whether they are new or returning customers.
While SEO and website speed are two different aspects of website optimization, they are interconnected. A slow website can negatively impact your search engine rankings and user experience, leading to a decrease in traffic and conversions. Therefore, improving your website's speed is crucial for your SEO efforts. By optimising images, enabling browser caching, minimise HTTP requests, using a CDN, and optimising your website's code, you can improve your website's speed, user experience, and search engine rankings.
Social media can be a great tool to help improve your website's search engine optimization (SEO) efforts. Utilize social media platforms to promote your website and increase your online presence. Whenever you create a new blog post or update your website, share it on your social media channels. This will help increase visibility for your content and drive traffic to your website. By sharing your content, building your following, using keywords, linking to your website, and encouraging social sharing, you can boost your search engine rankings and drive more traffic to your website.
Remember, SEO is an ongoing process, and it takes time to see results. It is essential to stay up-to-date with the latest trends and best practices in SEO to ensure your website continues to rank well in search engines.
If you are looking for expert SEO services to boost your website's ranking on top search engines, Excelsior Consultancy Service(ECS) can help you achieve your goals. Click here to contact ECS.