Digital Accessibility For Marketers: Email, Social Content & SEO
Digital Marketing has thundered over the last two years worldwide. Although the pandemic caused the world shift to digital transformation, it aided simultaneously Digital Accessibility For Marketers: Email, Social Content & SEO. The transformation in terms of technology is base ground for digital transformation. Isn't is very comfortable that you just sit at home and order something to eat with the use of corelated applications? Or just a work from home for a day?
What is digital accessibility for marketers?
Digital accessibility can be referred as rate of approachable e-content on a website, or any kind of virtual program. It could be email, any social content or even Search engine optimization (SEO). This kind of marketing or promotional activities gives an advantage for the any kind of business or company regarding ranking of the blogs, articles or even company websites.
What are the advantages of Email, Social content and SEO ?
A) Email marketing
There are numerous kinds of communication techniques having free and paid option available. But now days Gmail and Outlook are being widely used for marketing purpose.  We can use emailer, infographics, send softcopies, sign digital signatures to authenticate the documents using email communication method. It is free to use and ,is reached in every corner of the world within seconds. Email marketing is also useful when a marketer wants increase sales, make any promotion of the product or service, or tracking the preferences of the customers. According to the study performed by Statista, following figure shows the number of email user from the year 2017 to the year 2025.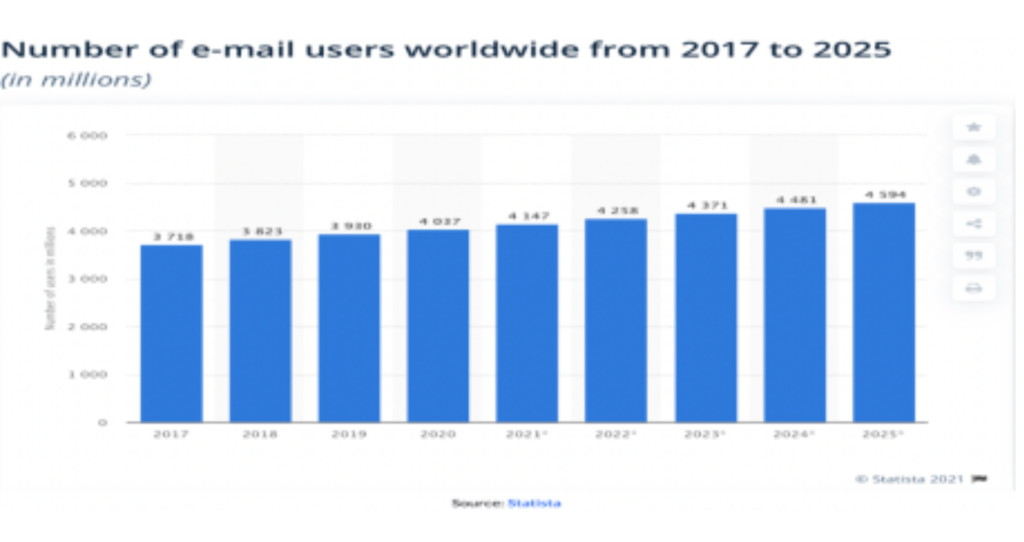 B) Social content
Social content is any kind of media posted on social media sites in order to attract the customer, promote marketing activities, run campaign, increase sale or simply reach new markets. This type of content includes social media post, group discussions, sites, graphics, animated images, videos and much. In order to reach onto wider markets, we must have to use proper hashtags. On the contrary where email can be sent directly to targeted person, social content has limited reach unless proper taglines or hashtags are used.

C)SEO
Marketers who perform SEO rankings are backbone for the company. These rankings decide the accessibility on first rank when a person search something on the internet. Search Engine Optimization (SEO) is one of the best practices to increase the visibility on any website on the search engine. Proper use of hashtags, tagline, titles can help increase the transparency thereby, allowing companies to gain more website visitors and increase the sale. SEO is a part of content marketing therefore, blogging is also a part of having a competitive advantage over other websites.


At present, In Dubai there are many marketing companies who help boost your business. Mccollins Media is one of the best digital marketing agencies in Dubai till today. They have a expertise on website development, branding, content production, performance marketing, SEO and analytics and Social media marketing. All of these services are provided under one roof with affordable prices. At the moment, the industries in which they deal are healthcare ,luxury, technology, food and beverages and corporate marketing. Get in touch with them with the above mentioned link to have a support from expert marketers of Mccollins Media.
It is digital marketers job to support struggling companies to rank on the internet. Above mentioned activities are helpful to any kind of business to increase their sale and brand image. Since the world has surrounded with invisible digital strings, we shall also look into the Digital Accessibility For Marketers: Email, Social Content & SEO as it provides better career opportunities and growth. If we search something related to Amazon, all the search results which appear, are decided by rankings. When we say the company must be having paid automatic traffic to increase their branding, it is not a literal sight. To a number one ranking on search engine, there is a day and night hard work of hidden digital marketers.