Turn traffic increases into revenue with SEO services from ECS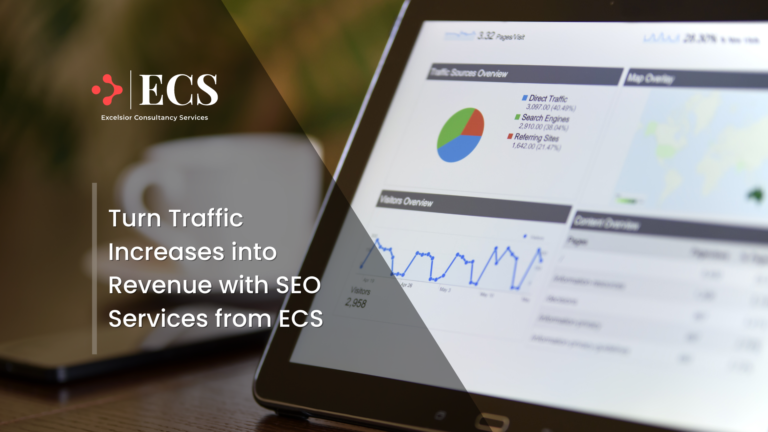 Search Engine Optimization (SEO) is a critical component of digital marketing, Turn Traffic Increases Into Revenue as it involves optimising online content and websites to attain higher rankings on Search Engine Results Pages (SERPs). The value of SEO services in converting increased traffic into revenue cannot be overstated.
By boosting your website's ranking on search engines, SEO services can increase its visibility and elevate its traffic. Consequently, potential customers searching for the products or services that you offer are more likely to come across your website, resulting in a higher chance of converting visitors into customers.
In addition to this, SEO services can also help target the right audience for your business by optimising your website for relevant keywords and phrases. By doing so, you can attract visitors who are more likely to be interested in your offerings.
Moreover, SEO services prioritise improving user experience on your website, which can be achieved by enhancing site speed, mobile responsiveness, and overall functionality. This can lead to increased engagement and conversions.
Compared to other forms of advertising, SEO services offer a cost-effective way to increase revenue, as they provide long-term benefits and a high return on investment.
How SEO Can Increase Sales and Conversion
By strategically implementing an effective SEO strategy, you can increase your sales and conversion rate. This involves reaching out to potential customers, attracting the right users to your website, and streamlining the sales process. Through targeted SEO and keyword research, you can focus on a specific audience based on their search terms, leading to a higher likelihood of making a sale. By drawing in the appropriate visitors to your site, your conversion rate can increase, leading to more sales of your products and services. While initial results may be observed quickly, the long-term effects of a well-executed SEO strategy can continue to generate revenue for months and even years to come.
SEO and Sales: The Reality
Every business, regardless of whether they're selling a service or running an e-commerce site, should consider implementing search engine optimization (SEO) as a smart online marketing strategy to increase sales. However, it's important to recognize that SEO is a long-term process and results may not be immediately noticeable. In contrast, a well-executed pay-per-click (PPC) campaign can bring in more leads for your sales team or increase eCommerce sales immediately. While the benefits of SEO efforts will continue to grow over time, many businesses and e-commerce sites may find it most effective to combine SEO services with PPC/Google Ads.
How an SEO Strategy Increases Sales for Your E-commerce Site or Small Business
To develop an actionable SEO strategy that can boost Turn Traffic Increases Into Revenue sales, the first step is to conduct keyword research and identify the search terms that your potential customers are using. A professional SEO specialist can assist you in identifying relevant long-tail keywords that can drive more qualified search traffic to your website.
Once you have identified the keywords, you need to create informative and engaging content that revolves around them. You should also incorporate the same keywords throughout your website, product pages, and landing pages to enhance relevance and help search engines understand your website's purpose.
While content marketing is essential for SEO, it's not the only aspect that you need to focus on. Research shows that obtaining backlinks from industry-specific publications is critical as it boosts your brand's authority and drives more traffic to your site.
However, this is just the start of an effective SEO strategy for increased sales. An SEO specialist can further assist you in implementing On-Page and Off-Page SEO strategies to drive more organic traffic to your site. They can also perform a technical SEO audit to identify and resolve any backend issues that may be affecting your site's ranking in SERPs.
Moreover, an SEO expert uses competitor analysis to assess which tactics are working for your competitors and which ones you can utilise in your own campaign for the best results. If your target market is localised, your SEO specialist can also incorporate local SEO tactics like building citations to enhance your reach to customers in your local area.
Benefits of Working with an SEO Agency
For business owners seeking to improve their sales through SEO, Turn Traffic Increases Into Revenue partnering with a search marketing agency is a wise choice. These agencies employ SEO specialists who have the hands-on experience necessary to boost your search marketing ROI. Rather than attempting to learn SEO on your own, an agency can deliver results much more quickly.
However, when selecting an SEO agency, there are several factors to consider. First, establish a budget to help narrow down your options. Reputable agencies will want to ensure that you don't overspend. Next, do your research by searching on Google and seeking recommendations from other small business owners. Look for an agency with a proven track record of success, and review their website and social media to see case studies and testimonials from previous clients. Visiting their LinkedIn profile can also give you a good idea of their company culture.
Once you've identified a few promising candidates, schedule an initial consultation to determine if the agency is a good match. Make sure the agency's SEO services are affordable, and ensure there's transparency and good communication on both sides. Choose an agency that is realistic about the results you can expect and doesn't make overblown promises such as guaranteeing to get you on the first page of Google within a specific timeframe. SEO is a process that takes time to deliver results.
Finally, track your progress using tools like Google Analytics and the data and analytics provided by your SEO agency. If you're not seeing the desired results in a reasonable amount of time, it may be time to reevaluate your strategy.
Drive traffic to your site with SEO strategy from ECS
If you're looking for a digital marketing agency in the UAE that specialises in providing SEO services, consider Excelsior Consultancy Service (ECS). The agency understands that simply increasing website traffic is not enough to generate revenue, and thus, focuses on optimising the website for both search engines and user experience. By creating a user-friendly website that loads quickly and provides valuable content to visitors, ECS ensures that the traffic generated by SEO efforts is targeted and converted into actual revenue for the business.
To ensure the success of our SEO efforts, our team tracks and analyses website metrics including traffic, conversion rates, and revenue generated. By continually refining our SEO strategies, we help businesses turn increased website traffic into revenue.
When selecting an SEO service provider, it's important to choose a company that utilises ethical SEO techniques and provides transparent reporting on their results. With ECS, you can trust that we prioritise ethical SEO practices and provide clear reporting on our efforts and their impact.
Investing in SEO services can be a cost-effective way to grow your business by improving visibility, enhancing user experience, and increasing conversions. If you're interested in learning more about how ECS can help you achieve your business goals through personalised SEO campaigns, reach out to us online to start the process.